Do you want to create a luxurious kitchen design in 2023 that is as elegant and stylish as your dreams? In 2023, for the eighth time,m we have been voted 'UK Best Kitchen Retailer' so we do feel some authority in advising on the definition of a 'luxury kitchen design'! Achieving this can be done with the appropriate combination of luxury cabinetry, top-notch appliances, dazzling countertops, special lighting fixtures, storage solutions fit for royalty, grand islands and unique backsplashes. This way an amazing space full of sophistication will emerge which no one could resist admiring!]
At Kitchens by JS Geddes, that's just what we've been doing, time and again, for 40 years.
Short Summary
How to create a personalised luxury kitchen with timeless designs, customisation options and streamlined aesthetics.
Equip your space with high-end appliances, professional ranges & ovens, integrated refrigeration and advanced cooktops.
Enhance the design of your dream kitchen with statement lighting fixtures, stunning countertop materials such as marble or quartz, granite flooring solutions, bespoke storage space, and one of a kind backsplashes.
Elegant Cabinetry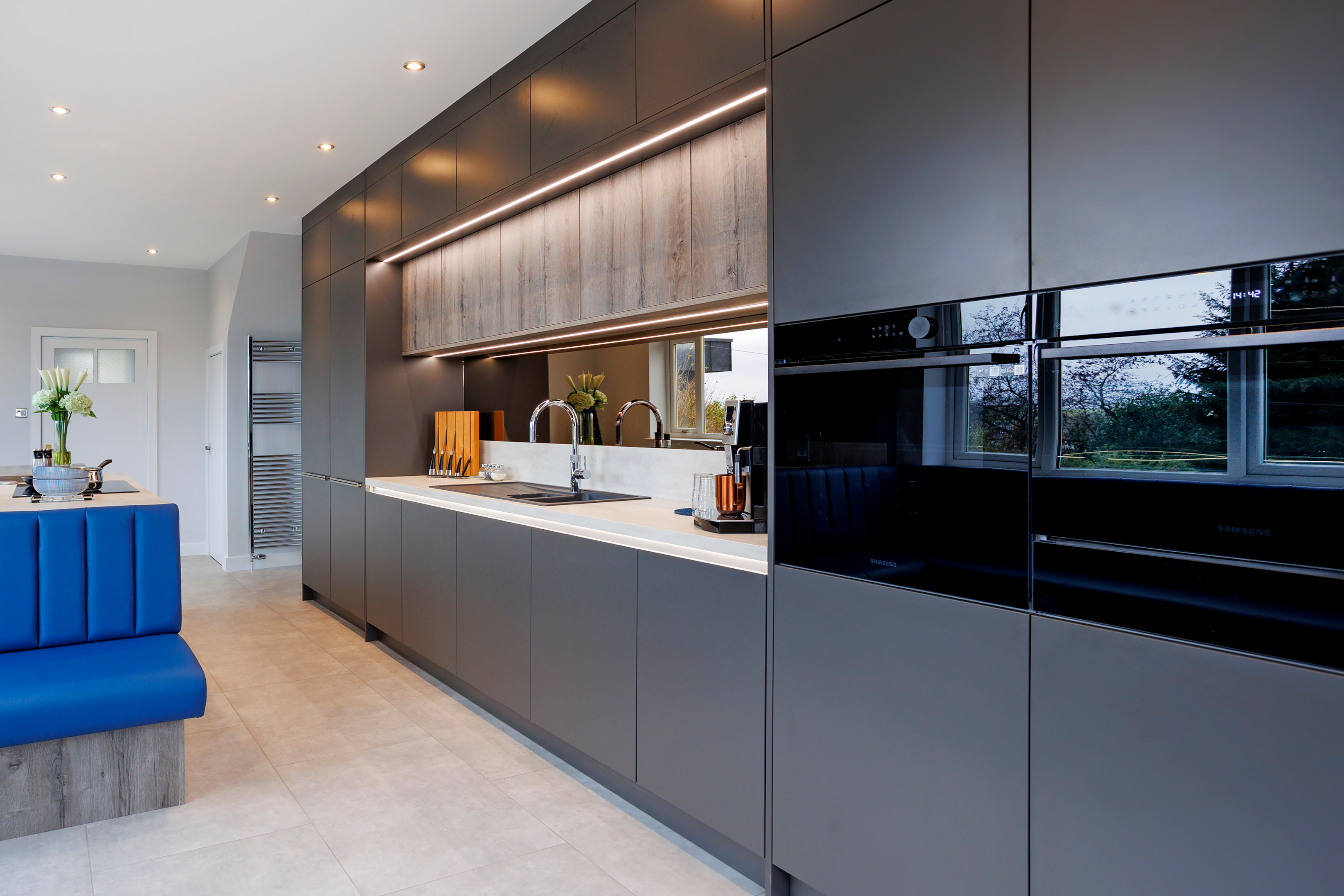 When designing a luxurious kitchen, investing in sophisticated cabinetry is vital. Choose styles like the traditional Shaker or more ornate choices to give your cooking area an attractive atmosphere.
Customise and refine your space with options that reflect your individual taste for a look that is as personal as it is lavish.
Timeless Designs
Classic cabinetry, in particular two-toned designs that blend black and white, blue and white or green with white to create an attractive aesthetic, is becoming increasingly popular. White remains the most preferred kitchen cabinet colour. There has been a clear shift towards warmer natural shades as well. An appealing appearance that stands unaffected by changing trends makes these timeless hues ever more sought after for any type of luxury kitchen decor.
Customisation Options
If you want to create a custom look for your luxury kitchen, then opt for unique hardware and two-tone cabinets along with bold colours, contrasted by intricate stained glass panels. This combination of features strikes the perfect balance between making an eye-catching statement while maintaining all that elegance synonymous with luxury kitchens.
Streamlined Aesthetics
For a luxurious kitchen, you can create an environment with two-toned cabinetry, blues and greens in sandy shades combined with bold patterns mixed with a tactile palette of materials and textures. Whether your aim is for a traditional kitchen or a modern kitchen, for us, it has to be designed and installed just for your space. That's what really separates a nice kitchen from a luxury kitchen.
High-End Appliances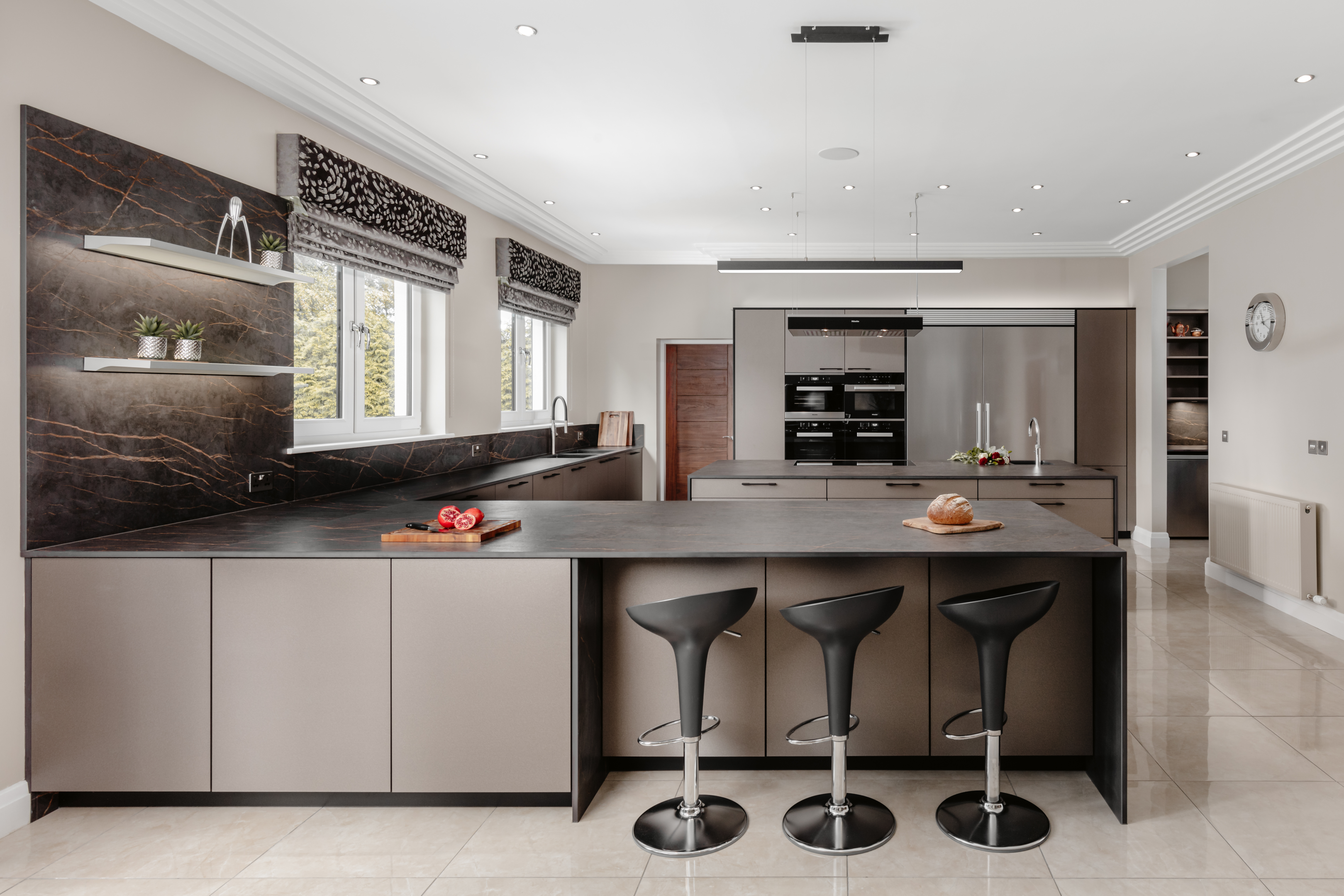 In order for your luxury kitchen to meet all your expectations, high-end appliances, integrated refrigeration and advanced cooktops are ideal. They bring not only a modern cooking experience, but also an aesthetic appeal to the area that is incomparable. Cooking can now be easier with features such as convection heating, temperature probes and self-cleaning ovens too! These additions will elevate your entire kitchen's functionality, which brings beauty in its own right.
Professional Ranges and Ovens
Your high-end kitchen should be prepared for any challenge in the culinary world and a top of the line range or oven is exactly what you need. The GE JGB735 gas range, as well as Whirlpool freestanding gas ranges, provide digital controls, stainless steel grates that are easily cleanable and ample storage space – all necessary to ensure your luxury kitchen runs smoothly. Professional grade appliances such as these two are sure to bring out your inner chef!
Integrated Refrigeration
In 2023, voice assistants, AI fridges and appliances that are unobtrusive to the cabinetry of a kitchen all became highly sought-after. Companies such as Samsung, Maytag and Fisher Paykel excel in providing energy efficient refrigeration options that flawlessly go hand in hand with your desired kitchen design.
These amenities make life much easier by their inherent features. Such as smart scheduling accessible through voice command or temperature sensors can be used from any distance away due to technology advancements. Such enhancements help you keep an eye on power consumption even while far away from home's comfort zone, granting both convenience and sustainability for your dream kitchen!
Advanced Cooktops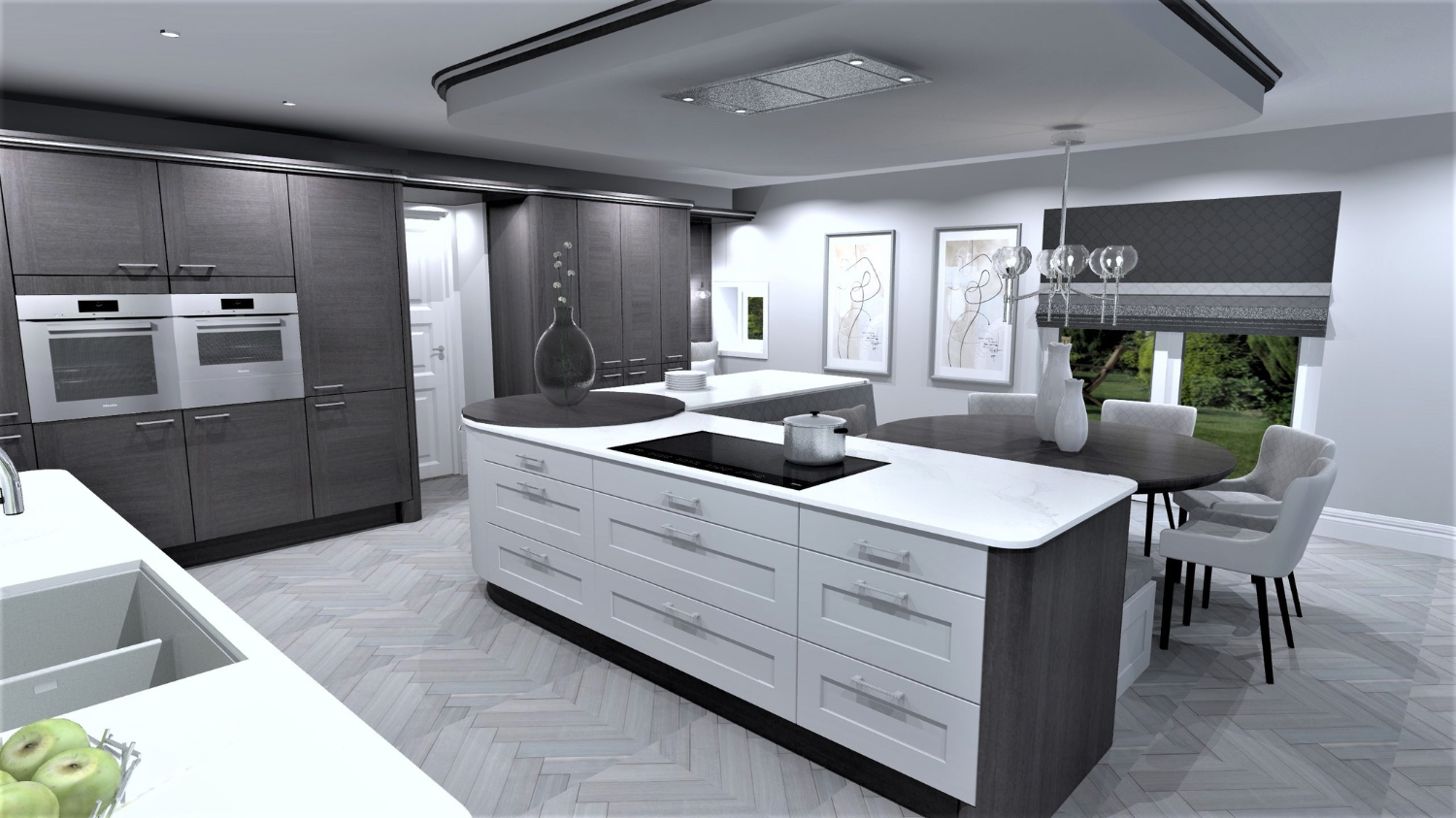 When designing a luxurious and practical kitchen, advanced cooktops are now more sought-after than ever before, with the likes of Miele and Thermador providing leading induction models in 2023. These appliances guarantee better temperature accuracy during cooking, faster speeds for meals to be prepared quickly plus energy efficiency is improved too.
Despite these features making them attractive choices though, it's still important to take into account both the cost associated with as well as what type of cookware would go best with such an installation.
Stunning Countertops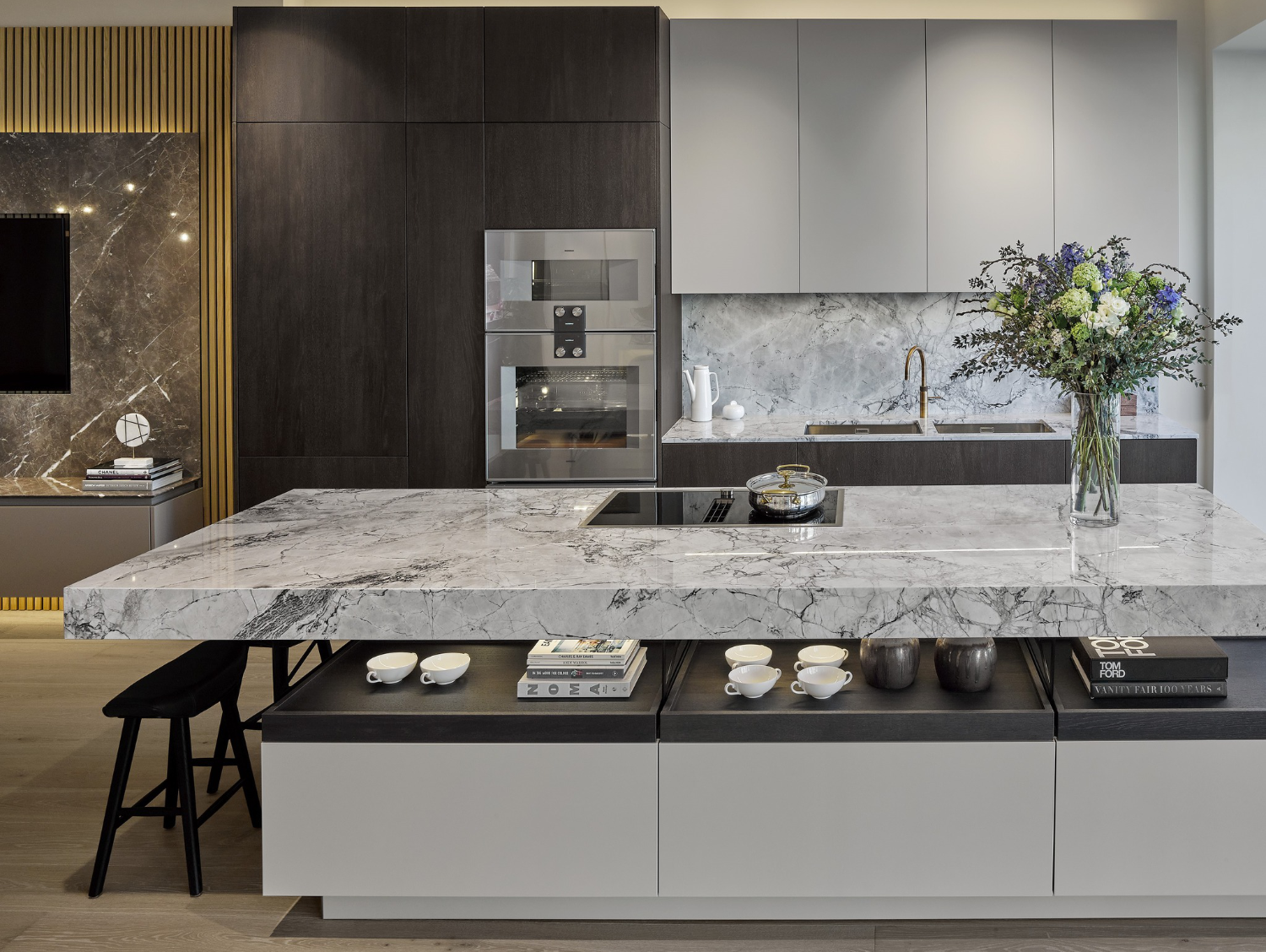 For a luxury kitchen, your countertop can be the crowning touch. With marble's elegance, quartz's durability and granite's range of options, you have plenty of choices to create an alluring focal point that has both sophistication and function.
You can find just the perfect one for your cooking space in any number of materials from traditional to modern styles with different colors and textures, making it simple as pie! Whether seeking classic charm or something more unique, these elegant pieces will bring style into every kitchen.
Marble Elegance
Marble countertops are set to be a luxurious element of many kitchens in the year 2023. The traditional style and heat-resistance that comes with these beautiful countertops has kept their popularity up over time. Yet, it is important to consider how marble can scratch or stain easily when choosing them for your home, requiring regular maintenance to preserve its dazzling look.
Quartz Durability
Quartz countertops remain a top pick owing to their solidness and low maintenance needs. Their non-porous surface stops liquids and bacteria from getting inside, offering users with an untouched environment. To keep quartz surfaces as clean as possible, it is advised to use gentle soap solutions when cleaning them instead of using abrasive or harsh scrubbing materials.
Granite Versatility
For luxury kitchen design, the use of natural stone benchtops and quartzite as countertop materials is becoming increasingly popular for their attractive look and resilience. Granite countertops offer an extensive selection of possibilities that guarantee your luxurious kitchen will be both aesthetically pleasing yet highly functional.
Statement Lighting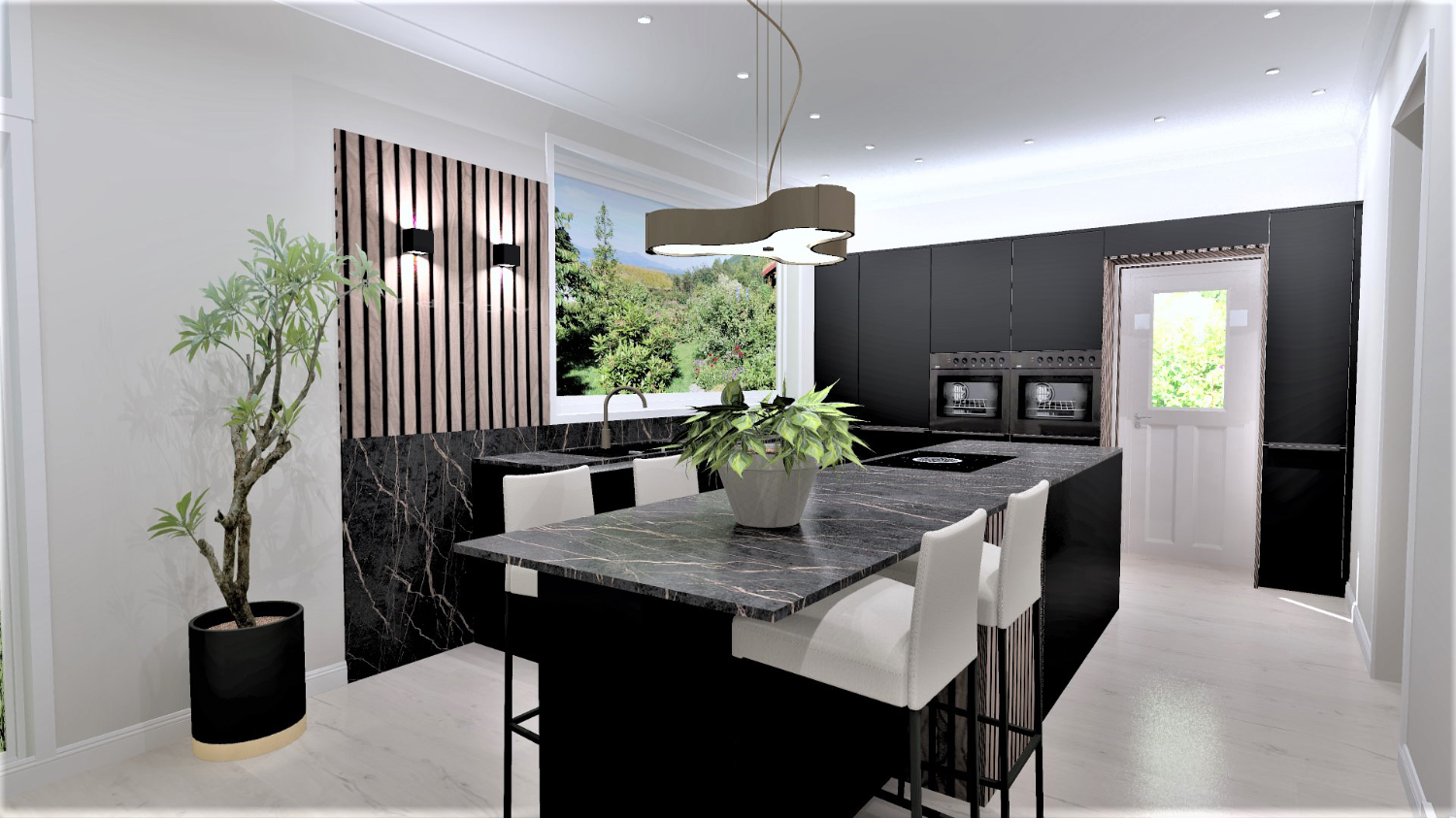 A great way to bring a high-end feel into your luxury kitchen is through the right lighting. Chandeliers, pendant lights or recessed options can all be used to create an impactful and inviting atmosphere that complements exquisite cabinetry, countertops and appliances. Such fixtures have the added advantage of highlighting any extraordinary features in your kitchen such as large islands or custom backsplash designs too!
Pendant Lighting
Luxury kitchens can benefit greatly from the addition of pendant lights, like those in Michelle Berwick's project. Such lighting options are a great way to add elegance and style to your space as they come in various shapes, sizes, and colors so you can find one that perfectly fits with your kitchen's aesthetic. Plus these fixtures provide more focused illumination than some other alternatives giving your workspace an attractive modern atmosphere while still being customisable for every need!
Chandeliers
Luxury kitchens can be given a timelessly elegant touch with the addition of beautiful lighting fixtures, like pendant lights or crystal chandeliers. The sophistication offered by these pieces is an excellent way to create and enhance drama in your kitchen space. Chandelier styles range from contemporary sputnik designs to more classic models which fit any kind of luxury interior design. No matter what look you're going for, adding a special element such as one of these exquisite light sources will instantly make it feel luxurious and grandiose while providing practical illumination too!
Recessed Lighting
For an elegant kitchen, recessed lighting offers a modern aesthetic by evenly distributing light and highlighting the luxurious features of your space. Natural materials, sculptural designs, bold fixtures with nostalgic elements are popular choices for 2023 to achieve this desired effect.
Innovative Storage Solutions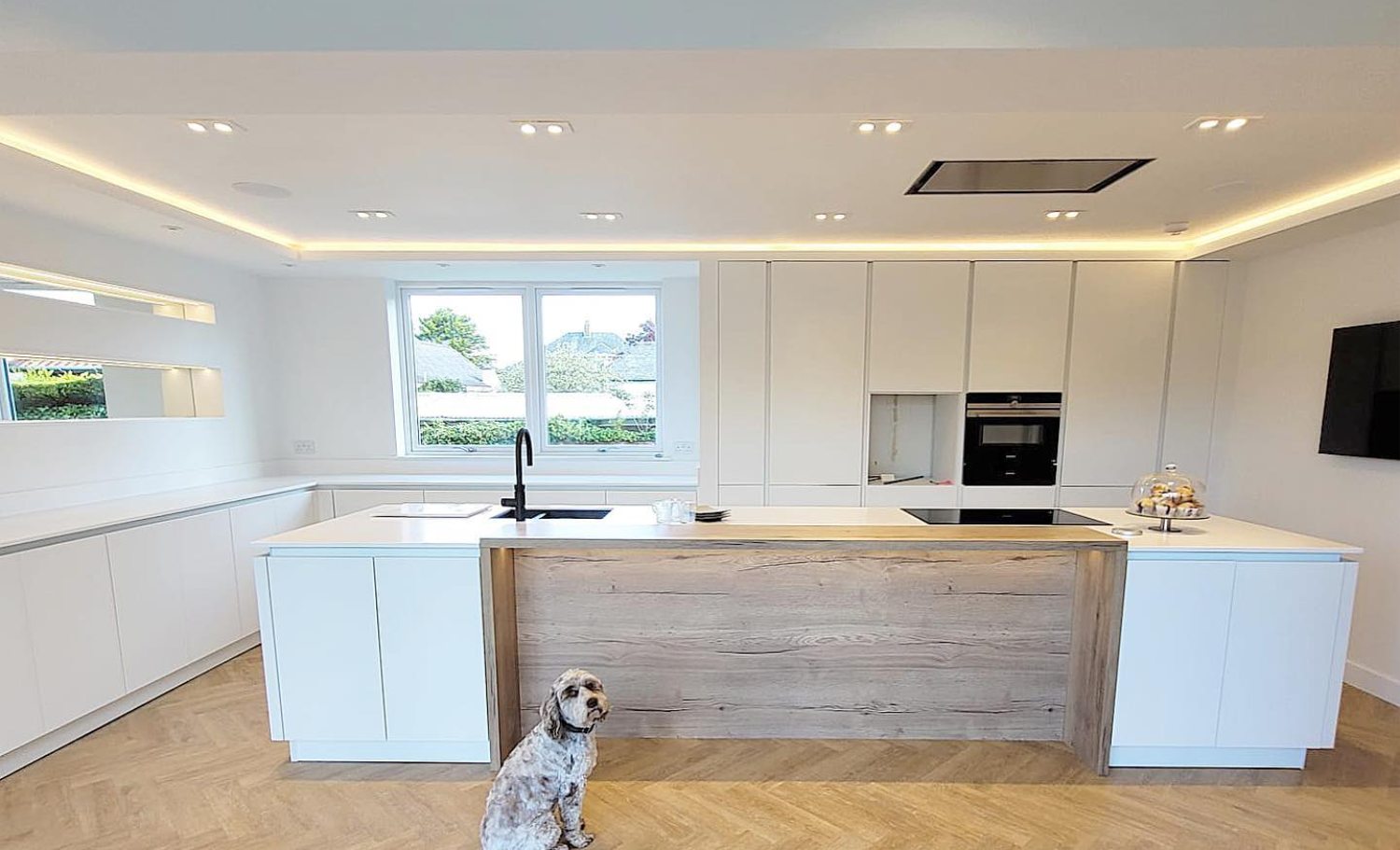 For maximum efficiency and luxury in your kitchen, introducing open shelving and unique storage solutions like hidden pantries or built-in banquettes will help keep the space organised while providing a chic look. Allowing for both style and practicality, these creative solutions allow you to make use of all available room within your luxurious culinary environment.
Hidden Pantries
Pantries provide extra space for storage and are a great way to optimise kitchen organisation. From wall cabinets that fit right in with any décor, floor-to-ceiling pantry systems designed around the aesthetics of your kitchen, or even freestanding cupboards. All offer practicality while complementing your interior design goals.
Built-in Banquettes
Creating a luxury kitchen with the perfect blend of style and function, built-in banquettes provide an ideal seating solution. Offering diverse designs in traditional, modern or rustic styles to suit your personal preference and space requirements, these spacious sections can accommodate all manner of guests while also providing additional storage facilities.
Open Shelving
Custom shelves are becoming a trend among homeowners searching for unique storage options. In 2023, open shelving is starting to decline, yet custom shelves bring luxury and sophistication into your kitchen design by enabling you to display favourite items like cookware or decorations on them.
These bespoke pieces of furniture can be made from many materials and tailored exactly how the homeowner wants it. They are suitable no matter what size space there may be, whether its just a little corner area in the room or an entire wall! Showcasing stylishness along with personalisation, these beautiful additions will enhance any luxury kitchen.
Grand Kitchen Islands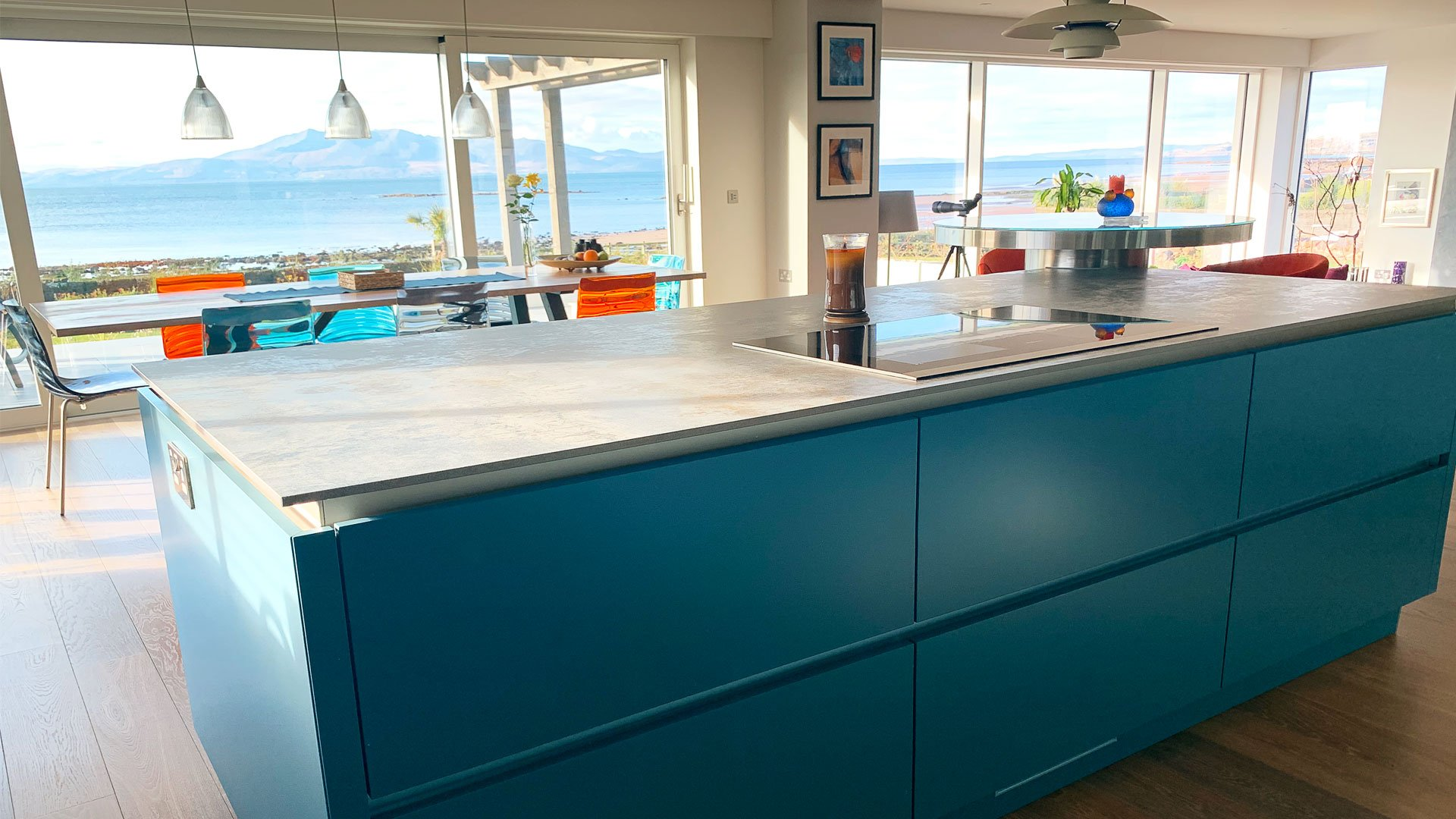 This luxurious kitchen features a grand, functional island that serves as its centerpiece. Providing seating and an integrated sink with wine coolers, the kitchen islands available vary from a focal marble table to a large central live edge wood one, all offering up luxury spaces for cooking and entertaining alike!
Seating Arrangements
Creating a luxurious and social atmosphere in the kitchen, 2023 has seen an increased focus on designing family-friendly islands with plenty of comfortable seating. Many designs feature multiple levels, custom seats built into them and sweeping edge details that seamlessly fit within any upscale kitchen setup.
Wine Coolers
Adding luxury and sophistication to your kitchen, a Gaggenau Wine Climate Cabinet is an excellent choice. Perfectly maintained temperature and humidity levels make it ideal for ageing wines over time.
Before purchasing one of these coolers, it's important to consider the expense involved with upkeep as well as ongoing maintenance in order to ensure optimal performance remains intact.
Integrated Sinks
Integrated sinks are a popular choice for luxury kitchens due to their unified and sleek look. Ranging in size and shape, they can be tailored to any kitchen design imaginable. To make sure your sink stays cleanly-looking, it is important you only use mild detergent with warm water when cleaning – do not utilize abrasive cleaners or scrubbing pads as this could damage the finish of your integrated sink's luxurious aesthetic.
Exquisite Flooring Options
Choosing the perfect flooring for your luxury kitchen is an essential component in completing its overall design. Hardwood, tile and concrete are all options that can offer unique characteristics to enhance both form and function of the space.
Timeless hardwood floors with their classic appeal still remain a popular choice among homeowners due to their aesthetically pleasing qualities as well as providing durability, making them functional enough for even high traffic areas such as kitchens! Tiles also come with many advantages like easy installation and maintenance while adding style. If you're looking specifically at achieving an ultra-luxurious aesthetic, then going for polished concrete might be better suited.
Hardwood Floors
Hardwood flooring in a classic style is still the popular choice for kitchens, offering an inviting atmosphere. Neutral shades such as honey, cream and white are expected to be top-of-mind come 2023. They provide versatility that makes hardwood floors timelessly appealing.
Tile Flooring
For a luxurious kitchen design, tile flooring is an ideal choice in 2023 due to the range of colours, textures and patterns available. Popular selections include buff sandstone tiles for a classic look as well as stylish or statement varieties for more eye-catching designs.
Concrete Floors
For luxury kitchen designs, concrete floors offer an attractive solution that is both durable and easy to maintain. From color choices to textural variances, these types of surfaces have the ability to add a unique contemporary flair while still being accommodating for any feet that may be on it. With its luxurious style and capabilities, adding this feature into your kitchen design can upgrade its overall aesthetic feel in no time!
Unique Backsplashes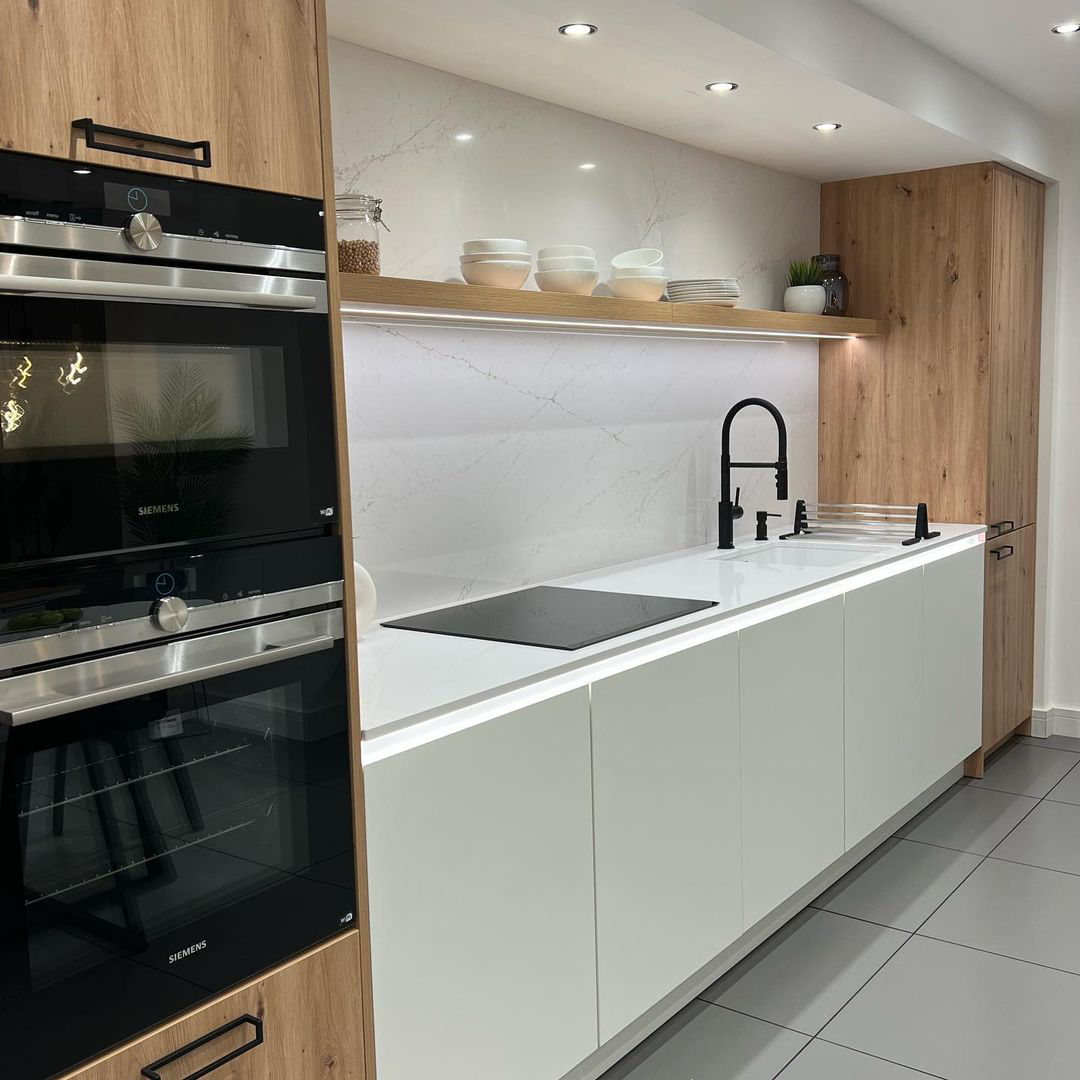 To give your luxury kitchen a one-of-a-kind look, you could try utilising distinctive backsplashes like antique mirrors or aged brass. These sophisticated solutions will provide not only an elevated aesthetic for the design of your kitchen, but also practicality with their easy cleaning qualities.
Antique Mirror-Effect
When it comes to antique-style backsplashes in 2023, Creoglass Antique Mirror Splashbacks are a popular choice. These tempered glass panels have a distressed aesthetic and can withstand temperatures up to 400oC, perfect for use around the stovetop area.
To ensure that your mirror effect splashback stays looking like new though, you need to remember about cleaning and maintenance tasks regularly performed on them.
Aged Brass
For a classic and sophisticated look in any luxury kitchen, elegant aged brass faucet fixtures or cabinet pulls are an ideal addition to the overall design. An exquisite backsplash made with this vintage-inspired material can be used as a unique statement piece for your cabinetry that will contribute to its luxurious atmosphere.
Summary
Creating a luxury kitchen of your dreams for 2023 is an achievable goal with the right mix of cabinetry, appliances and countertops that exude elegance. For added flair, statement lighting can create interesting visual interest along with innovative storage solutions and eye-catching islands as part of your design vision. Finishing off this modern space requires picking out dreamy flooring materials to bring the entire atmosphere together, all while still reflecting personal style through these creative elements ensuring functional practicality throughout.
Frequently Asked Questions
What are the most expensive kitchens?
This extravagantly expensive kitchen, costing a whopping £1 Million, is sure to be the choice of only the wealthiest people. The Fiore di Cristallo Kitchen features exquisite Italian marble countertops and custom-made cabinetry made with cutting edge materials for maximum luxury and sophistication, an opulent statement in any home. It also boasts state-of-the-art appliances that are ready to make your culinary experience unique and unforgettable! Nothing else will quite compare when it comes down to high end kitchens like this one!
What makes a kitchen look luxury?
A luxurious kitchen can be achieved through the careful combination of materials, features and warm colours. Accent lighting will bring an extra level of elegance to this room making it appear both sophisticated and expensive. By carefully selecting the perfect blend of elements one is able to create a luxurious kitchen that exudes opulence. Beware the emeperor's new clothes however – all that glitters is really not gold. A mass produced kitchen cabinet will look good photographed on day 1 – how does it look on day 61 or 101? A top-quality kitchen, professionally installed, will look and function as well on day 2001 as on day 1.
What are the most expensive kitchens in the UK?
The Colosseo Oro kitchen by Marazzi Design is a breathtaking luxury kitchen and the most expensive one in the UK, with an exorbitant price tag of £300,000. It was created for London's trade show to provide those who view it a glimpse into opulent modern artistry combined with cutting-edge technology.
At JS Geddes we have designed and installed many luxury kitchens with a six-figure budget, but the price tag isn't necessarily the key criterion to deliver a truly luxury kitchen design.
Every exclusive one-of-a-kind kitchen contains an assortment of high end appliances such as integrated coffee makers, wine coolers, plus other extraordinary features sure to add grandeur to any home décor!
Kitchens by JS Geddes – personal care, award-winning designs, and stunning service – we're with you for years.
Visit www.jsgeddes.com or telephone us on +44 1563 530838 to arrange a private consultation.